BRUT
Cuvee created from equal quantities of Pinot Meunier and Pinot Noir grapes produced in Celles-les-Condé. The ruby pink colour and aromas are drawn from the grape skin as a result of a short maceration of between 48 and 72 hours before pressing.
Wine connoisseurs will appreciate its red berry aromas ranging from raspberry to blackcurrant, while the pink to purple hues make for a visually appealing product.
A dosage of 8 g/L means you can enjoy this pink champagne with fruit and chocolate desserts. It is also ideal for use as an aperitif in Kir Royal.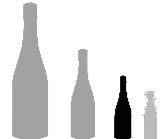 Available in bottle
To choose a personalized label you can give us the reference number you prefer on www.cpcreation.fr